Agamemnon Channel, British Columbia
February 2006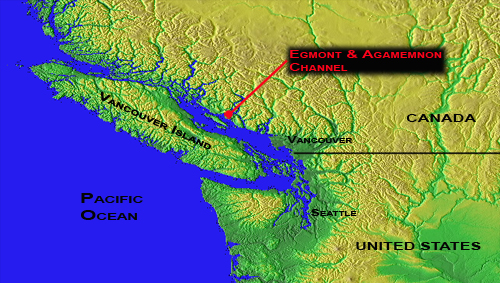 British Columbia & the inside passage
When I lived in Seattle, Washington, my friends and I would often travel up to British Columbia during February for a mini-dive vacation over President's Day weekend. The water in BC can be remarkably clear during the winter and early spring months. The ubiquitous winter cloud cover in the Pacific Northwest limits plankton growth, leading to visibility that is often in excess of 50 feet.
In 2006 I met up with friends from Seattle to travel up to the 'Sunshine Coast' region of British Columbia, on the mainland side of the Strait of Georgia. Diving out of the tiny town of Egmont, we explored the depths of Agamemnon Channel and it's fantastic sponge growth. Narrow, fjord-like channels wind through snow-covered, jagged mountain peaks providing spectacular backdrop scenery. Sheer cliffs drop into the water and continue down beneath the surface where the rocky walls are carpeted with a unique variety of colorful marine life.
The sheer-sided underwater cliffs of this channel provide an opportunity to see a couple of unique species that prefer deeper water. Starting at perhaps 80 feet and becoming more prolific the deeper one ventures are cloud sponges (Aphrocallistes vastus). These yellow to white sponges often occur in huge formations resembling 'dripping vases.' Deeper still are large orange gorgonian soft corals (Adelogorgia phyllosclera). These fabulous corals start at depths of 130 feet or so and get larger and more spectacular the deeper one descends, until at 150-180 feet they can reach a size of two feet or more across.
The following images were shot over President's Day weekend 2006 and represent my first foray into underwater digital imaging. These images were shot with a Nikon D70 digital SLR, 16mm fisheye lens in an Aquatica housing with two Subtronic strobes. I hope you enjoy them!
| | | |
| --- | --- | --- |
| Cloud sponge colony at Foley Head | &nsb | Looking nearly straight up the face of an underwater wall, the trees hanging over the cliff above can be seen behind a grazing sunstar. |
| | | |
| --- | --- | --- |
| Eric Martinson floats just beyond a wall covered with crimson anemones. | &nsb | Small gorgonian coral and cloud sponge on the wall at Agamemnon Channel. |